Leaky Roofs Destroy Lives!
For over a decade Elements Roofing has been helping people solve their roofing problems. Whether it is to stop a home destroying leak or designing a roofing system for a large commercial project, Elements Roofing has always exceeded the expectations of its customers.
These are just some of the reasons that make Elements Roofing a Trusted Partner.
1. Stability: Elements Roofing has been a trusted name in the Portland surrounding areas for over 13 years and has completed over 11 Million ft.² of residential and commercial roofing which is currently under warranty.
2. Predictability: Elements Roofing prides itself in the best quality materials, the absolute highest quality workmanship and craftsmanship at a price to accommodate any budget. Rather you have a manufactured home or a $17 million mansion you'll receive the same great customer service, respect and cost sensitive approach.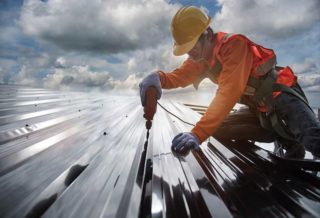 3. Consistency: Elements Roofing is a factory certified Select Shingle Master installer for CertainTeed Corp. *CertainTeed Will Warranty 100% of our workmanship and our material for the life of the warranty. (Insert Select Shingle master logo) *Commercial: Elements Roofing is also a Gold Star certified commercial contractor for CertainTeed Corp.
4. Competitive: Elements Roofing will match or beat any competitive estimate, anywhere at any time. If a customer wants to build a relationship with Elements Roofing, we will find a way to make it work.
5. Dependability: Elements Roofing is a brick and mortar facility. We have 40,000 ft.² state of the art facility Conveniently and centrally located on SW 72nd off of Hwy 217 & I5.
6. Quality: Elements Roofing does not subcontract jobs. We are an   employer direct company. All of our employees are highly trained certified CertainTeed technicians whom are ALWAYS in uniform, clean, friendly, courteous and in a clearly marked company vehicle. Elements Roofing has an A+ rating with the BBB.
7. Loyalty & Courtesy: The average Elements Roofing employee has been with the company for nine years. Elements Roofing's highly trained staff Will go out of their way to be courteous and respectful to your needs and inquiries. Customer service is the cornerstone of any home-improvement company and a fundamental tenant of Elements Roofing.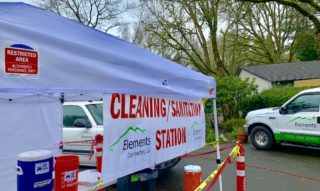 8. Safety: Elements Roofing is COVID-19 and OSHA safety compliant. All of our staff have received extensive personal training from OSHA and their safety program.
9. Philanthropy: Elements Roofing Gives Back- Elements Roofing has a simple philosophy. In order to have a healthy community we must do all we can do to help build a healthy community. Elements Roofing donates proceeds every year to a variety of foundations and nonprofits.
10. Ingenuity: "The number one cause for business failure in North America is the failure to anticipate and adapt to a changing market" -Harvard Business. Elements Roofing prides itself in innovative technology, wireless estimation services, electronics signature documentation and COVID-19 compliant practices and procedures.