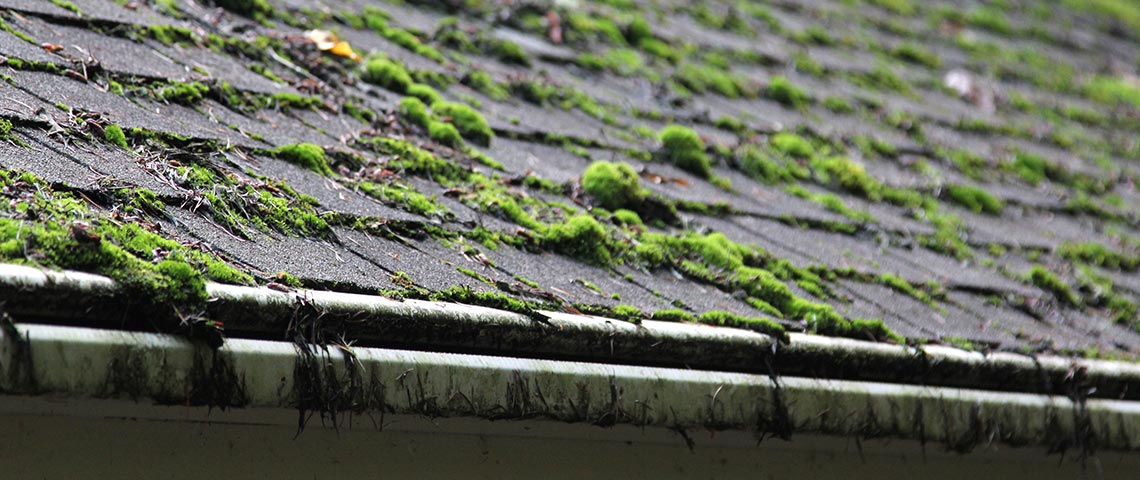 How to Kill Moss?
Take away the shade that the moss is growing in.
Turn its environment extremely acidic or turn it into a base environment (above 7 pH levels).
Take away the moisture or water from the moss.
About Method #1 & Method #3
#1 & #3 can be a little tricky to do for people whose roofs are in a naturally shaded/humid environment. Some options would be to remove trees around the home in order allow extra sunlight in. This could be a fairly expensive solution but would be a solution that would last for years to come.
For those people who have moss or algae growing on their roofs and do not want to remove their trees around their home the solution that would work best for them would be #2. This is most commonly done with roofing cleaning products. (We have shared 3 with you above & included links to reviews left by unhappy and happy customers.)
Remove The Shade
Because moss grows well in shaded areas one way to control moss/remove it from roofs or other areas is to remove its shade. This can be done by removing trees, trimming tree branches to allow more sun to penetrate, or remove bushes and other type of plant life that may be blocking the sun.
This method of moss prevention and removal is highly effective but remember that it may be ineffective if the weather is often overcast and cloudy.
Make its Environment Acidic (below pH 4)
There are many common household items that have a pH level at or below 4. These products are highly effective at killing moss. Using these products with a mixture of water or directly to the moss can kill the plant. Be aware that acid products erode certain types of surfaces. By diluting the mixture you can prevent unwanted corrosion.
White Distilled Vinegar (Apple Cider Vinegar As Well)
Orange Juice
Lemon Juice
Tomato Juice
Make its Environment a Base (Above pH 7)
Since moss grows in a pH environment of 5.0 – 5.5 or 6.0, by changing the environment to a base level it will effectively kill the moss. Below is a list of some common household items that are bases. By mixing these products with water or by applying them directly they can kill moss in yards, off of roofs, siding, decks, or other unwanted areas.
Baking Soda
Baking Powder
Salt
Ammonia
Soap
Bleach (Do not mix bleach and ammonia)